"France is in the air" now on the air
Differentiating an airline brand is always a challenge, but flag carriers have an easy shortcut: wrapping themselves in their flags. Case in point: this campaign about the Gallic charms of Air France. "France is in the air" launched a year ago with images depicting a (French-built) A380 flying over the (French-built) Palais de Versailles and, somewhat controversially, fashion models dressed in stereotypical costumes from Air France destinations. But this global spot, launched last week, is the first television work for the campaign. (Agency: BETC Paris)
Delta's new ad missing Bill Murray
I never really appreciated the movie "Lost in Translation" until I spent two weeks on an ill-fated business trip to Dubai. Watching it again afterward, that feeling of dislocated isolation really hit home. Delta captures that same feeling in its new television spot, created by Wieden + Kennedy and masterfully directed by Martin de Thurah. The result is comparatively light on product and heavy on empathy.
Icelandair reveals livery inspired by the northern lights
The northern lights may be, as some claim, a myth but they are sure are a beautiful myth. And if you want to see them, one of the airlines to fly is Icelandair. This week, the Icelandic carrier revealed a new, aurora-inspired livery on one of its 757s. The livery itself is lovely, but I'm particularly impressed by how the airline brought the northern lights into the aircraft cabin with programmable LEDs. As for the northern lights being a myth: I've seen them, once, from a British Airways 747, and while they seem paler than they look in the brochures, the wonder of seeing them in person more than makes up for it.
Etihad reveals new cabin crew uniforms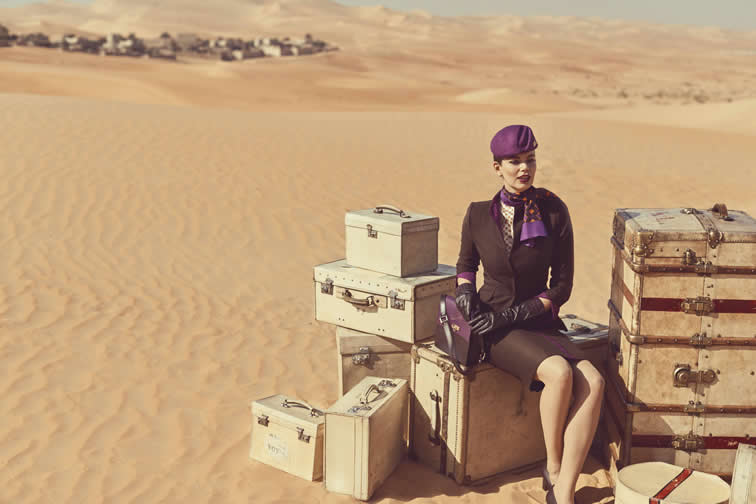 Wondering if she overpacked, a flight attendant waits in the desert to be picked up by the crew van. (Photo: Norman Jean Roy/Etihad)
To celebrate the arrival of its new A380 and 787 airplanes, Etihad is introducing a new uniform for its cabin crew, including its new in-flight butlers. The chocolate-brown and deep-purple uniforms were created by Italian designer Ettore Bilotta and are featured in a series of images by fashion photographer Norman Jean Roy.
easyJet's new livery is practically restrained
Images emerged over the weekend of an easyJet A320 in what looks like a new livery. Gone are the billboard titles and URL (or telephone number) that have been easyJet's trademark since the beginning. It's still not clear if this new look is official or if it's just a short-term paint job on a leased airplane. There has been no official announcement from the airline.
Alaska rules out rebrand
For months now, the industry has been expecting a major rebrand from Alaska Airlines. Well, it's not happening. The company has decided instead to focus on the loyalty of its current customers, according to Runway Girl Network. With the exception of a minor redrawing of the logo, the carrier's look and livery will stay largely the same, although CEO Brad Tilden is promising "a continued advertising push."
ANA releases app to take the stress out of flying
All Nippon Airways has released a new app called "Takeoff Mode," developed by Firstborn, to take the anxiety out of takeoff for nervous flyers (like me.) The app distracts passengers with a simple puzzle game during taxi and takeoff roll. Then, once the airplane is airborne, it automatically lets the passenger know it's safe to release their death grip on the armrest. Fun idea. Here's footage of it in action.
Delta rebrands five classes of service
Delta Air Lines has announced a revamp of the "Delta experience" today with five different classes of service and new names to match. See if you can follow along.
The long-haul international and transcontinental premium class, which has been known as BusinessElite since Delta eliminated First Class in 1998, will now be known, in disappointingly generic fashion, as Delta One. On domestic and short-haul international routes, the premium cabin will be called First Class (it was previously sometimes called Business Class, sometimes First Class, apparently depending on the airplane.) Economy Comfort is now Delta Comfort+. Economy is now Main Cabin, just like American. The new class is Basic Economy, in which you'll sit in the Main Cabin but get a cheaper fares in exchange for giving up the ability to change your ticket, choose your seat, or upgrade.
So from front to back, that's Delta One, First Class, Delta Comfort+, Main Cabin, and Basic Economy. That's a confusing mishmash of names, none of which seems to be related to any of the others. Maybe this video will help sort it all out?
Santa flies coach for Expedia
As a copywriter, my holy grail is an idea so simple it can be expressed in a few words and you will instantly not only get it, but feel it. "Santa flies coach" is just such an idea. This is a lovely video for Expedia to advertise the fact that you can now donate your Expedia+ rewards points to St. Jude Children's Research Hospital. It's a brilliant idea, beautifully executed by 180LA. Source: Adweek.
Canadian airlines get in the holiday spirit
Two Canadian airlines have launched holiday videos in the past week. WestJet followed up last year's remarkably successful Christmas Miracle with a similar program in a new locale: an underprivileged destination in the Dominican Republic. (Agency: Mosaic)
Meanwhile, Air Canada surprised Canadian ex-pats in London with a free flight home for the holidays. (Agency: JWT Toronto)