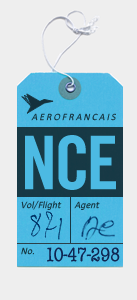 Last year, airlines had a spectacular showing at the Cannes Lions, with a Grand Prix, six Golds, eight Silvers, and eight Bronzes. Inevitably, this year's performance (eight Silver, 15 Bronze) was not quite so lofty. But there were some strong contenders, along with the usual mix of shocking omissions and perplexing victors that really make you wonder what the hell the judges were thinking.
If there's any trend among the winners this year, it's low-cost carriers trying to make a virtue out of their miserly service. Not only do they tout their cheap fares; they also brag about how little you get for them. It's a kind of reverse price signaling — where other marketers price high to create a perception of high quality, LCCs are increasingly promoting their low quality to create a perception of lower prices.
As always, airline campaigns tended to do better in the more tactical categories (Promo & Activation, Direct, Media, PR, etc.) and less well in above-the-line in categories such as Film, Branded Content, and Titanium & Integrated.
Also as always, the links below will shortly disappear behind an extremely expensive Cannes Lions paywall. In fact, this year you can't even see credits without ponying up thousands of dollars. So I have tried to include videos and outside links for each campaign that will, one hopes, have more staying power.
Transavia, "Snackholiday"
Agency: Les Gaulois, Puteaux, France
Transavia produced branded snacks — potato chips, gummy bears, soda — and put them on grocery store shelves. The twist: when you buy one of these bags of chips for €40, you're actually buying a flight to, say, Barcelona. With fares that cheap, flying really can become an impulse purchase, just like a snack. This campaign is a worthy follow-up to Transavia's two winning promotional activations from last year.
Germanwings, "Corridor Targeting"
Agency: Grey Germany
Germanwings worked with Skype to produce banner ads that geotargeted both sides of a Skype conversation. For example, if you're in Berlin Skyping with your long-distance girlfriend in Istanbul, you'll both be shown a banner advertising fares for flights between Berlin and Istanbul. There are a few troubling privacy implications to this, but it is a very clever media idea. I imagine Skype will have no problem selling this product to other airlines.
Tigerair, "Infrequent Flyers Club"
Agency: McCann, Melbourne
This is, in essence, a mailing list that periodically sends subscribers information on fare sales. Not exactly revolutionary. But what makes it different is how Tigerair has dressed the campaign up as a frequent flyers club for people who don't fly frequently. Membership cards you can print yourself with imaginary levels of status. Doors to airport lounges that actually lead nowhere. Tigerair is hanging a lantern on what they're not — and having a lot of fun doing it.
Delta Air Lines, "Innovation Class"
Agency: Wieden + Kennedy, New York
Through LinkedIn, Delta gave budding entrepreneurs a chance to apply to sit beside famous innovators — the founder of Pebble, for example — on Delta flights. They called it a mentorship program at 35,000 feet. It's an interesting campaign that generated a lot of great content for the airline.
S7 Airlines, "Imagine"
Agency: Wieden + Kennedy, Amsterdam
In this film, kids describe destinations from their wild imaginations. S7 shows that not only do these places actually exist, but also that they fly there. This film is based on such a beautiful idea, but I can't help thinking it's a shame S7 didn't actually fly the kids to these magical destinations. It would have given the film even more emotional power. The spot is lovely but it doesn't quite close the circle.
Scoot Airlines, "Inspiring Spirit"
Agency: Saatchi & Saatchi, Singapore and SweeneyVesty, Singapore
I wrote about this good-natured spat between Scoot and Spirit back in April. It seems to have gotten a lot more attention on this side of the Pacific — where Scoot doesn't fly — than in the airline's home market. But maybe that's just the case study video. In any event, it was a great example of seizing a PR opportunity.
Thai AirAsia, "Mountain/Waterfall/Beach"
Agency: BBDO Proximity, Bangkok
"Beach" from the Thai AirAsia campaign.
See the other ads
You always have to wonder, especially in the Press Lions category, how real the winners actually are. It's hard to imagine, for example, that this ad could have been part of Thai AirAsia's regular media plan, or that it was a response to a typical Thai AirAsia brief. But leaving that aside, it's a smart idea in a student book sort of way.
KLM Royal Dutch Airlines, "#happytohelp"
Agency: Tribal DDB, Amsterdam
I love this social campaign in which KLM extended its customer service to passengers who weren't even flying with them. It's a spiritual descendent of the brilliant KLM Surprise campaign, except it's even more relevant to airline customers. KLM continues to lead the way in social.
S7 Airlines, "Imagination Machine"
Agency: Wieden + Kennedy, Amsterdam
S7 used a brain scanner to let people fly a little digital airplane around. In other words: total awards bait.
Virgin America, "Website Redesign"
Agency: Work & Co, New York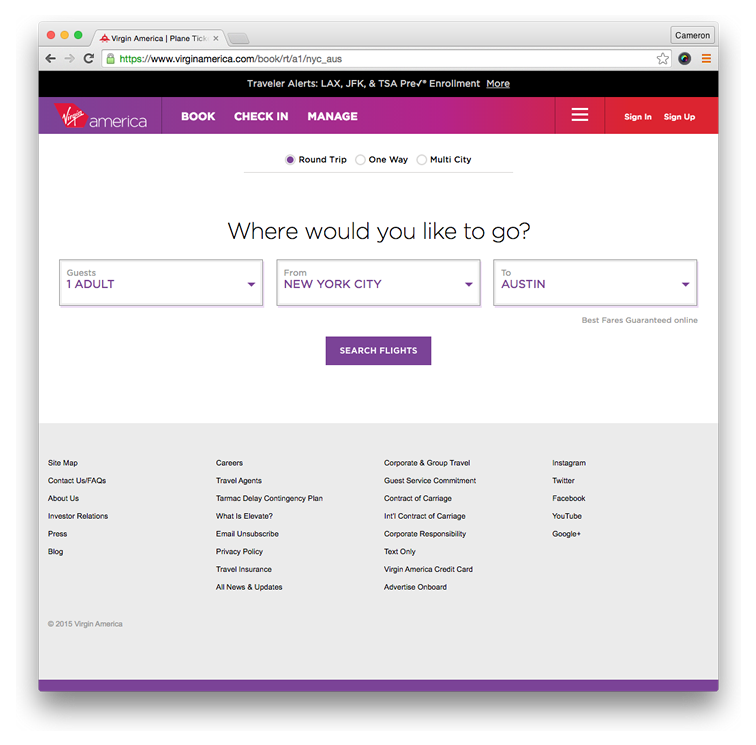 A screenshot of Virgin America's new Web site. See the
full case study
.
It's sparse and easy-to-use — if you believe branding is only about the user experience, then you'll love this. But I think they might have taken the minimalism a bit too far, sacrificing some small part of the airline's personality in the process. For a brand that's all about style, that could be a problem.
Scandinavian Airlines, "SAS Escalator"
Agency: Los & Co, Oslo
I don't get this one. What is it meant to be saying? SAS flies faster? SAS airplanes have better satnav? If I were a consumer encountering this escalator in an airport, I'd be really confused by this.
TAM Airlines, "Own Board Magazine"
Agency: FCB, Milan
TAM launched its service to Milan by placing personalized inflight magazines in every seat pocket. This is the sort of thing a media agency would get really excited about and a creative agency would shrug at, so it's no surprise that it did well in Media.
Virgin America, "Blah Airlines"
Agency: Eleven, San Francisco
I'm genuinely shocked this didn't pick up any Lions, especially after having won two silver pencils and a bronze at this year's One Show.1 I thought it was very well done. If you watch the six-hour video, you'll find impressive attention to detail all the way through.
Air France, "The Upgrade Challenge"
Agency: Fred & Farid, Shanghai
Air France offered travelers from Asian destinations the chance to earn upgrades by playing a mobile game while in the departure lounge.
Air New Zealand, "'Leave It To Us" Request System"
Agency: Asatsu-DK, Tokyo
Apparently Japanese workers are even worse at taking vacation than their American counterparts. Air New Zealand created a Facebook app allowing travelers to create customized vacation request forms to submit to their bosses.
British Airways, "Mood Blanket"
Agency: OgilvyOne, London
British Airways created blankets for premium customers that lit up different colours depending on their moods. Cute, but I find myself rolling my eyes at the case study's insistence that it was a genuine attempt at consumer research rather than a stunt.
Germanwings, "Parisseldorf/Colondon/Berlistanbul"
Agency: Grey Germany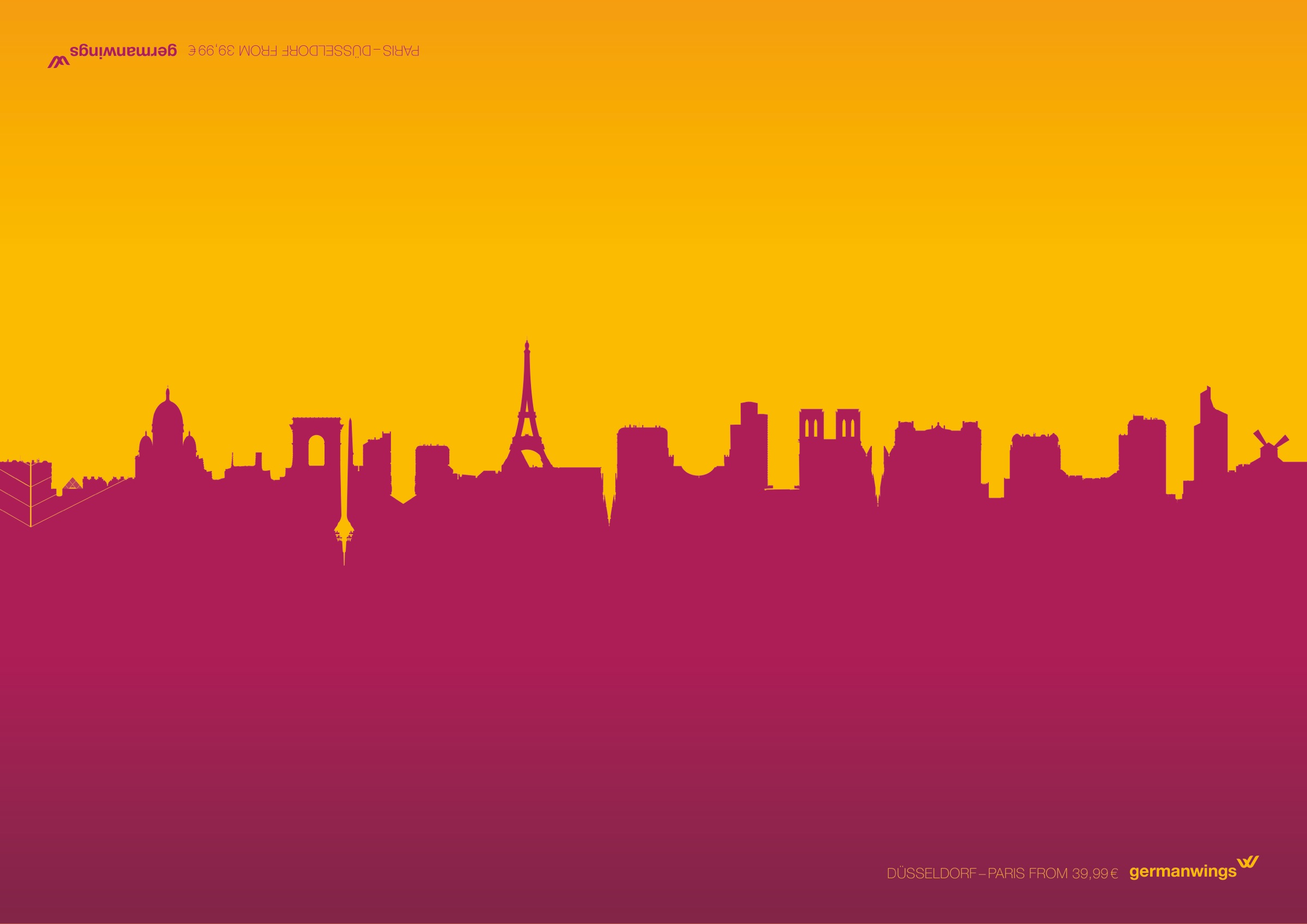 "Parisseldorf."
See the rest of the campaign
This campaign is very well executed — congratulations to the illustrator — but the idea has been done again and again and again.
Iberia, "Rafa Nadal's Seat"
Agency: OgilvyOne, Madrid
This program is beautiful in its simplicity, and it must have cost about three dollars. To highlight its sponsorship of Spanish tennis star Rafael Nadal, Iberia put a special headrest cover on each seat Nadal has flown in on its airplanes. Passengers took pictures of themselves with the headrest covers and shared them, because of course they would. We all love to have a connection with fame, however tenuous.
jetBlue Airways, "Fly it Forward"
Agency: Lowe Mullen, Boston
JetBlue gave free flights to some deserving people, and, after their flights, asked them to pass the tickets on to other deserving people. There's something about this program that's wonderfully in line with the airline's "air on the side of humanity" positioning.
KLM Royal Dutch Airlines, "The Airplane Apartment"
Agency: DDB and Tribal, Amsterdam
Another fun social program from KLM sees the airline partnering with Airbnb to offer guests a stay on one of KLM's obsolete MD-11s. As Airbnb stunts go, it's much less scary than this.
Kulula, "Rugby Widows"
Agency: King James Group, Cape Town
Kulula offers getaways to women who have been "widowed" by rugby season.
LAN Airlines, "Airplane Belly"
Agency: Maruri Grey, Guayaquil, Ecuador
This case study is another eye-roller. For one thing, while I'm not sure about this and I could well be wrong, the prices on the airplanes' bellies look like they were rotoscoped into the video. But let's assume that some planes actually were painted. Apparently the few dozen people who would have actually noticed it were so overwhelmed by seeing a city name and a fare on the belly of an airplane, they and they alone boosted ticket sales 18%. Astounding!
Lufthansa, "Fanhansa Bored to Brazil"
Agency: Kolle Rebbe, Hamburg
In this contest, participants had to watch a video of a sloth for 4.5 hours until it moved, revealing a contest entry code. Personally, I find this campaign about as exciting as the sloth it features. And I'll simply never forgive them for going with "Fanhansa" instead of "Luftfansa."
Best of the year
Using the official Cannes Lions methodology, the Airline of the Year for 2015 is Transavia, with two Silvers, two Bronzes, and two Shortlists. Germanwings and KLM tie for second. The Airline Agency of the Year is Les Gaulois. Félicitations!
But for the Airline Grand Prix, I'm going to part from the Cannes judges and give it to KLM for #HappyToHelp. KLM continues to set the pace for the category with innovative social ideas. Many airlines now do social well, but few have made their responsiveness as central to their offering as KLM has. It's another brilliant campaign.
No-shows
There were no airline winners or finalists at all in these categories. Better luck next year!
Creative Effectiveness
Product Design
Titanium and Integrated
The conventional wisdom among advertising creatives is that it is harder to win a One Show pencil than a Cannes Lion. It's hard to know if this is really true or not, since generally the same campaigns end up winning both. [↩]