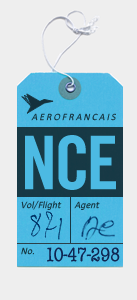 Another year, another booze-fueled, scandal-plagued ego trip on the French riviera. If that sounds harsh, perhaps it is. It's easier to forgive the excesses of Cannes when they're accompanied by inspiring work. Unfortunately, this year was a bit of a dud.
Few airline industry campaigns were awarded, and many of those that did pick up Lions are retreads of previous years' campaigns. Last year, airlines took eight Silver and 15 Bronze Lions, already a far cry from the heights of 2014. This year, it was just four Silver and five Bronze, with most of those in lesser categories.
As always, the links to the winners will shortly disappear behind the Cannes Lions paywall. So in order to save you the thousands of dollars it would take to see the winners, I've tried to track down case studies from other sources. These may or may not be identical to the case studies seen by the judges.
S7 Airlines, "Upside Down and Inside Out"
Agency: Tutkovbudkov, Volgograd
This mesmerizing piece of branded content was produced in partnership with OK Go, a band that — let's be honest — is better known for its ingeniously choreographed videos than for its music. But what a video. My stomach lurches with the thought of all those parabolas in the Russian vomit comet. According to the band, filming took 21 flights and included 58 "puke events." The film is all the more impressive for having been done — more or less, kinda sorta — in camera. Can you imagine cleaning up that paint after every take?
Delta, "Tell the World"
Agency: Wieden + Kennedy, New York (Production company: Smuggler)
This is a nice enough spot, but hardly groundbreaking. It won its Lion for sound design, which is excellent.
Qantas and Air New Zealand, "Airline Wager"
Agency: Host, Sydney
How often do two competitors jointly win a Cannes Lion? Air New Zealand and Qantas bet on the outcome of the 2015 Rugby World Cup. Australia lost. Qantas crewmembers wore New Zealand jerseys and gave away 51 free flights. The internet loves it when competitors take the gloves off, even in the spirit of fun — witness one of the biggest winners at Cannes this year, Burger King's McWhopper campaign.
Turkish Airlines, "Batman v. Superman"
Agency: CP+B, London
Turkish Airlines, a viral video powerhouse, announced its sponsorship of Batman v. Superman: Dawn of Justice by adding Gotham City and Metropolis as destinations. The level of integration in this campaign is impressive.
Transavia, "Holidays on Demand"
Agency: Les Gaulois, Puteaux
This is a clever twist on last year's Snackholiday campaign, in which Transavia hijacked a non-traditional sales channel — junk food — to sell cheap airline tickets. This time, the non-traditional sales channel is video-on-demand. Viewers who purchased movies over their set-top boxes found they could also buy flights to related destinations.
Virgin America, "Blah Airlines"
Agency: Eleven, San Francisco
So… this campaign is from last year. I'm not sure why it was eligible again this year. Maybe they added an activation component. Maybe they just forgot to enter it into Promo and Activation last year. Whatever. A nice valedictory Cannes performance from a brand that might not be around much longer.
jetBlue, "Reach Across the Aisle"
Agency: MullenLowe, Boston
jetBlue has won big in the past with campaigns that tapped into the zeitgeist — such as 2008's "Welcome Bigwigs" campaign. This year, in the midst of a hopelessly polarized political climate in the United States, the airline ran a social experiment at 30,000 feet: offering free tickets to a planeload of passengers if they could unanimously agree on a destination.
Aeroméxico, "Borders"
Agency: Ogilvy & Mather, Mexico City
Aeroméxico's not-so-subtle jab at Donald Trump asks what good borders are, anyway. The film is admirably entrepreneurial — just stock footage and a piece of air-to-air film at the end the agency probably had lying around. I doubt it was created in response to a brief from the client, but Aeroméxico did post it on their YouTube channel and it has a respectable number of views.
Brussels Airlines, "The Blackout Bus"
Agency: TBWA\Brussels
This is a great idea but there's something just a little bit fishy about it. Apparently, when an air traffic control blackout shut down the airport in Brussels, Brussels Airlines loaded its delayed passengers onto tour buses to see the city while they waited. If this was indeed TBWA's idea, and if they were indeed able to pull it off within an hour, then this would be an achievement unprecedented in the history of advertising, deserving of more than a mere shortlisting. In my experience, however, agencies and their clients do not act nearly so quickly. So I'm not sure what the real story is.
Delta, "Why We Go"
Agency: Wieden + Kennedy, New York (Production company: Smuggler)
Like the other Delta spot on this list, this one was shortlisted for sound design.
KLM, "Layover with a Local"
Agency: Achtung! mcgarrybowen, Amsterdam
I think this is the sort of idea — an app that pairs connecting travelers with locals in Amsterdam — would have been a big winner a year or two years ago. It's an interesting idea, although tellingly the case study doesn't mention anything about how many people actually signed up.
Tigerair, "Infrequent Flyers"
Agency: McCann, Melbourne
This campaign won several Lions last year. This entry mostly updates the results. The rules of the Creative Effectiveness Lions are different from all the other categories.
Singapore Airlines, "Paper Plane"
Agency: DM2, Singapore
It wasn't a huge campaign — a few Instagram posts, really — but it earned copious blog coverage because it was so well executed. Singapore Air's papercraft airline seats were perfect social content: simple yet absolutely arresting.
Vueling, "Untypic"
Agency: The Cyranos//McCann, Barcelona
How many more pictures of the Colosseum does the world really need? Vueling's app tells travelers when their smartphone shot has been taken a million times before and suggests attractions off the beaten path. It's a cute idea, but I have my doubts about how much someone would really want to use such an app. And that case study, defying all conventional wisdom, takes nearly a minute and a half before it gets around to actually explaining the app.
Airline of the year
Using the official Cannes scoring system, the airline of the year is S7 Airlines, with last year's winner, Transavia, in second, and Delta in third. No Airline Grand Prix awarded by Fly the Branded Skies this year. Better luck next year!