Flyby Wire: September 9th, 2013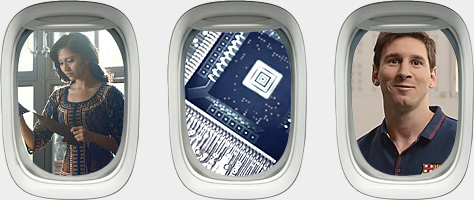 Welcome to the fourteenth issue of The Work This Week, a weekly roundup of new advertising, identity, and brand experience work from around the airline industry. This week, almost every airline ever launches a fall advertising campaign.

Advertising
Singapore Airlines has released the first spot in its "The Lengths We Go To" campaign, which they teased last month. In this beautifully shot commercial, a flight attendant personally selects the leaves for a passenger's tea. Now that's service! There are two more spots to come, along with print and digital. Agency: TBWA\Singapore.

And because The Work This Week missed a week, they've also had time to release a second spot.

British Airways updated its "To Fly, To Serve" campaign with "Today, Tomorrow." As reported last time, their creative account is in review. Agency: BBH, London.

Southwest Airlines kicked off its fall campaign. Agency: TBWA\Chiat\Day, Los Angeles.

Qatar Airways touted its sponsorship of FC Barcelona with a spot featuring proven-airline-commercial-YouTube-view-getter Leo Messi and other players. Agency: 180 Amsterdam.

Ultra low-cost carrier Allegiant Air launched its first national advertising campaign to tell the world why it doesn't serve free soda. Agency: Penabrand, San Francisco. Source: Skift.

Design
We've known it's been coming for a while, but jetBlue has started wear-testing its new uniforms. They've also produced a video with some of the initial reactions. Source: Creativity Online.
Social
It hasn't been a great couple of weeks for airlines in social media. To whit:
A British Airways passenger became so frustrated with the airline that he spent $1,000 to promote a Tweet telling people not to fly it.
Meanwhile, airberlin has suffered somewhat of a "social media meltdown" on its Facebook page after losing an entire flight's luggage and other mishaps.
And Thai International Airways was caught painting over the logos and titles on a crashed A330 in Bangkok.
But on the brighter side, that Qatar Airways ad mentioned above already has nearly 6 million views on YouTube.
Tips?
If you have any tips, e-mail me or tweet them at @brandedskies. See you next week!
Image credits: Singapore Airlines, British Airways, Qatar Airways