Flyby Wire: June 30th, 2013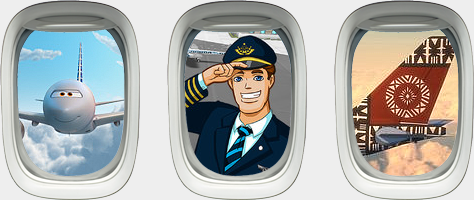 Welcome to the seventh issue of The Work This Week, a weekly roundup of new advertising, identity, and brand experience work from around the airline industry. This week, American Airlines gets animated, KLM makes a game out of the airline business, and the airline formerly known as Fiji Airways is now currently known as Fiji Airways.

Advertising
American Airlines announced a cross-promotion with Disney's Planes, a 3D-animated movie inspired by Cars hitting theatres this August. As part of the cross-promotion, the film will include a cameo by Tripp, a character inspired by American's new Boeing 777-300ER airplanes. The collaboration also includes a television spot starring Tripp and two of the film's main characters. Agency: McCann, New York. (Disclosure: I was involved in the production of the commercial for American.)

A new campaign for Southwest Airlines in Denver seems designed to hit Frontier right where it hurts. Agency: GSD&M, Austin.

United released a new commercial for its transcontinental p.s. Premium Service. Agency: mcgarrybowen, New York.

Identity
Their much-lauded new look was revealed almost a year ago, but this week Air Pacific officially became Fiji Airways. Source: USA Today
Delta subsidiary Pinnacle Airlines renamed itself Endeavor Air, but as far as consumers are concerned, it will continue to fly under the Delta Connection brand. Source: StarTribune.
Design
Officials at LAX showed off the new Tom Bradley International Terminal, including multimedia installations designed by Moment Factory, Montreal. Source: Skift.
Mobile
KLM launched Aviation Empire, a free simulation game for iPhone and Android in which you run an airline from 1919 to today.

Experience
Tips?
If you have any tips, e-mail me or tweet them at @brandedskies. See you next week!
Image credits: American Airlines/DisneyToon Studios, KLM, Fiji Airways