Flyby Wire: June 16th, 2013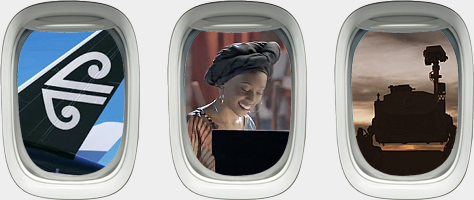 Welcome to the fifth issue of The Work This Week, a weekly roundup of new advertising, identity, and brand experience work from around the airline industry. This week, new campaigns from South Africa and Australia, a new look for Air New Zealand, and a new reason to cross the Thames.

Advertising
Two weeks ago, we mentioned that Qantas was due to come out with its first major television campaign from Droga5 starring the Mars rover Curiosity. The spot was released Friday. The near-life-sized Curiosity mockup used in the commercial will now make a tour of Australian airports. Agency: Droga5, Sydney.

Mango, the low-cost subsidiary of South African Airways, has launched a new, very aspirational television campaign under the tagline "Why not today?" Agency: DDB Johannesburg

Identity
When Air New Zealand unveiled a special all-black livery for the All Blacks about 18 months ago, a lot of people seemed to think it might look good on all the airline's planes. Well, they're going to get their wish — on some planes, at least. This week Air NZ posted pictures of its new black-and-white livery. Most planes will be white with a black rear section, but some, including some of the airline's new Dreamliners, will be black from nose to tail. The new designs are much more dramatic than the eurowhite livery introduced last August.
Design
Embraer's new catalogue for its Lineage 1000 business jet actually floats in the air… thanks to magnets! Agency: Africa, Sào Paulo. Source: Creativity

Digital
If you liked that song you heard on your flight to Atlanta last week, you're in luck. Delta Air Lines has started posting its boarding music as playlists on Spotify. Source: Jaunted
Experiential
Emirates, which already sponsors a cable car over the River Thames in London, is adding an attraction to the Greenwich side that might make the trip worthwhile. The Emirates Aviation Experience will introduce visitors to the "modern achievements of commercial air travel." It'll also include four full flight simulators (two 777s, two A380s) open to the public. It opens in July. Source: Air Transport News
Accounts
Southwest Airlines is reviewing its digital business. Currently it's handled by VML, Kansas City, and Wunderman. Source: AdAge
Emirates has awarded its North American business to BBDO New York and Atmosphere Proximity. The account is handled globally by StrawberryFrog. Source: AdAge
Awards
The Cannes Lions International Festival of Creativity is happening this week. There's not much to report yet, but a few of the shortlists have been announced. Right now, KLM is in the running for a Promo Lion and British Airways is on the hunt for a Direct Lion. We'll have all the winners next week. Meanwhile, if you're lucky enough to be in Cannes this week, stop by Lambie-Nairn's CannesAlso exhibit to see a picture of the Branded Skies junior wings collection.
Tips?
If you have any tips, e-mail me or tweet them at @brandedskies. See you next week!
Image credits: Air New Zealand, Mango, Qantas