Jingle: TWA "Up up and away" (1967)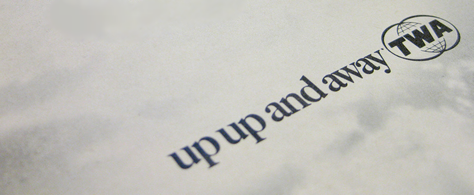 Listen: Trans World Airlines: "Up Up and Away"
There was a time when TWA was actually a pretty cool airline. It inhabited a pretty cool airport terminal. Thanks to its association with Howard Hughes, and his association with Hollywood, it flew pretty cool passengers.
And for a brief moment, in 1967, it had a pretty cool — and ultimately notorious — jingle.
This is the first installment of what I hope will be a weekly series of posts about airline jingles. Jingles are a dying art in advertising; perhaps a dead one. Yet for decades, the airwaves were full of them. And airlines had some of the best.
This one is a case in point. "Up up and away" was a part of TWA's branding for perhaps a year. But ask people what they remember about TWA — if they remember it at all — and chances are they'll mention this song. It stuck. It even outlasted the airline itself.
TWA's jingles had one advantage over those of other airlines: the carrier's initials. Five rhythmic syllables. The last one is easy to rhyme. In 1967, it just so happened that the rhythm of those initials exactly matched the title of a new, popular song: "Up, Up and Away."
"Up, Up and Away" was a light piece of sunshine pop most famously sung by the Fifth Dimension. It became popular just as war raged on Madison Avenue: the war for TWA's advertising account. Eight agencies were pitching. Three of the eight, according to Foote, Cone's then-music director, were bidding for the rights to "Up, Up and Away."
Foote, Cone won the rights to the song, and the account. In all, they'd spent a million dollars on the pitch. The song's author got a deal worth $18,500 a year for three years. (Once upon a time that was a lot of money.)
They wasted no time putting together a flexi-disc record introducing "The New Sound" of TWA to employees. The mustard, purple, and red cover features a psychedelic image of a 707 taking off. "The nation is becoming aware of a new TWA image… an image formed from a new sound and a new look," reads the cover. "From now on, as never before, TWA will be the airline that is with the tempo of the times."
For two reasons, TWA's march with the tempo of the times was short lived.
First, they were sued. Foote, Cone negotiated the rights to the song with Jimmy Webb, the man who wrote it. But they didn't hire the Fifth Dimension to sing it. They hired studio singers who… well, sounded a lot like the Fifth Dimension. Maybe too much like the Fifth Dimension — judge for yourself. Eventually, the Fifth Dimension's suit (Davis v. TWA) was dismissed. But by then, it seems the song had already been off the air for more than a year.
Second, Foote, Cone's hold on the account was short-lived. Less than a year after one of the biggest shoot-outs in Madison Avenue history, TWA handed the account to Wells, Rich, Greene. Without any pitch at all. Mary Wells told TWA their campaign was "a little too feminine in style, too effete, to appeal to business travellers, who were mostly serious, hardworking and long-suffering men." Wells, famous for turning Braniff into a trend-setter, set about doing the opposite for TWA. From that point on, to my mind, TWA's advertising tended to be rather stodgy.
But there were many more jingles to come.
Airline: Trans World Airlines
Title: "Up up and away"
Agency: Foote, Cone and Belding
Written By: Jimmy Webb (original); Unknown (arrangement)
Year: 1967
Lyrics
Wouldn't you like to fly
up, up and away?
Wouldn't you like to fly
up and away?
If you'll take our hand
we'll chase your dream
across the sky
For we can fly! (We can fly!)
Up, up and away!
How beautiful, how beautiful, to fly!
We'll pick a star
in the twilight canopy
and search the world
for the sights you long to see.
Your heart is young,
you're alive, so come with me.
T-dou-ble-u-A, up, up, and away!
T-dou-ble-u-A, up, up and away!
T-dou-ble-u-A, up, up and away!
T-dou-ble-u-A, up, up and away!

(Photo credit: Nate Hofer)
Update (Jan. 22, 2012): I forgot to mention that TWA was not the only airline to use "Up up and away" in its advertising. Trans Australia Advertising did too — although a little clumsily: