Flyby Wire: September 22nd, 2013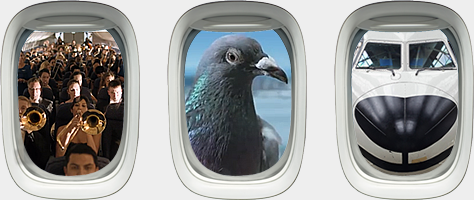 Welcome to the 16th issue of The Work This Week, a weekly roundup of new advertising, identity, and brand experience work from around the airline industry. This week, the friendly skies are back.

Advertising
The big news this week is the return of the friendly skies to United. A new campaign that launched this weekend restores the "Fly the Friendly Skies" tagline the airline used for more than 30 years. This is the first major brand campaign for the airline since its merger with Continental. The launch includes four television spots, print, radio, digital, out of home, social… so yeah, it's not small. You can see all the spots on the campaign's landing page. Agency: mcgarrybowen, New York. Source: New York Times.

But that's not all. JetBlue also launched a brand campaign under the tagline "Air on the Side of Humanity." The thoroughly charming launch spot stars a very frequent flyer. Agency: Mullen, Boston.

As Jetstar marks its 10th anniversary this year, it's launched a new campaign featuring their new 787. Which they don't really have yet, but they will soon. Agency: Big Red, Melbourne. Source: Campaign Brief.

Design
Today, British Airways launched nonstop service to Chengdu, a city in China nobody in the West has ever heard of because only 14 million people live there. To celebrate, it painted a 777 like a panda. Source: Business Traveller.
Lufthansa is marking Oktoberfest by making its flight attendants wear dirndl and lederhosen.
Digital
The first British Airways 787 started flights to Toronto this month, but on Thursday it had some competition from a virtual plane. It was a close race, but the "tweetliner" won — fueled by tweets from people who wanted a chance to win a trip to Toronto (and who wouldn't want to visit the greatest city in the world?) The contest continues Tuesday in a race against an A380 to Los Angeles. Agency: BBH, London. Source: Creativity Online.

Social
After holding out for years, Ryanair has finally joined Twitter. But it's a one-way conversation: the airline says it will not respond to customers through social channels.

#Ryanair has joined Twitter! Follow our official account for the latest Ryanair news & special offers. PS There's no charge for following us

— Ryanair (@Ryanair) September 17, 2013
Accounts
After a lengthy review, Air Canada has named JWT Canada as its new agency of record. Source: Marketing.
GlobalHue is United's new multicultural agency. Source: Agency Spy.
Tips?
If you have any tips, e-mail me or tweet them at @brandedskies. See you next week!
Image credits: United Airlines, jetBlue, British Airways