Flyby Wire: July 21st, 2013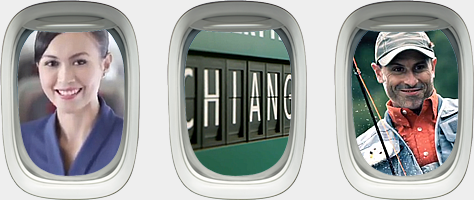 Welcome to the tenth issue of The Work This Week, a weekly roundup of new advertising, identity, and brand experience work from around the airline industry. This week, Garuda promotes its sponsorship of Liverpool FC, Heineken lets passengers play Destination Roulette, and Spirit Airlines flies into review.

Advertising
Garuda Indonesia released a new commercial promoting its sponsorship of Liverpool FC. The airline doesn't actually fly to Liverpool; it doesn't fly to anywhere near Liverpool, or anywhere in the United Kingdom, for that matter. But it will recommence flights to Heathrow in November. Agency: Lowe, Jakarta.

Southwest Airlines encourages flyers to "Carpe Vacay." Agency: GSD&M, Austin.

Experiential
Heineken set up an installation at JFK's Terminal 8 allowing passengers to push a button for a random destination. The catch: they had to agree to cancel their existing travel plans and fly there right away. Agency: Wieden + Kennedy. Source: PSFK.

Accounts
The always-controversial Spirit Airlines has put its advertising account into review. Previously it was handled by Siquis, Baltimore. Source: Adweek.
Aer Lingus awarded its European digital business to Rokkan. It's the agency's first European business. Source: Adweek.
Tips?
If you have any tips, e-mail me or tweet them at @brandedskies. See you next week!