Jingle: Singapore: "Singapore Girl Theme" (1973)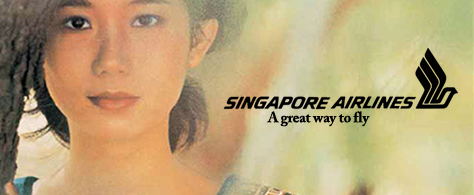 Listen: Singapore Airlines: "Singapore Girl Theme"
This must be the longest-running campaign in the airline category. Indeed, it may be one of the longest-running campaigns in advertising, period. The Singapore Girl campaign is now more than 40 years old. Think of it this way: the first Singapore Girls are now in their 60s.

And it's fair to say they've been retired from flying for Singapore Air for a very, very, very long time; as recently as 2005, Singapore Air wouldn't hire stewardesses older than 25.1 Even today, when the age limit has at least officially been abolished, Singapore Airlines stewardesses—they are still called stewardesses—must hew to very strict appearance standards and wear a very unforgiving uniform.
Whether these requirements reflect impeccable standards or blatant sexism is open to debate. Many of Singapore's employment practices would probably be illegal in Western countries, and they would certainly put Western airlines in an uncomfortable position. At the same time, Singapore's cabin crews are undeniably among the world's best-trained in safety and, especially, service.
One way or another, for more than 40 years the iconic Singapore Girl has given her employer something vanishingly rare: a unique brand positioning. When Singapore Air is voted, year after year, as one of the top airlines in the world, it's thanks in no small part to the image of the Singapore Girl. According to the airline, she is "the epitome of Asian grace and hospitality."
It all started in 1972 when a brand-new airline (Singapore Airlines, newly split from Malaysia-Singapore Airlines) hired a brand-new advertising agency (Batey Ads, founded by Ian Batey, a British expat.) Batey introduced the Singapore Girl as the face of the new airline. A record released in 1973 by the airline has two related pieces: on side one, the Singapore Girl Theme, in which a white guy (Australian songwriter Patrick Aulton) crushes on his exotic Asian stewardess. Side two ("SIA Hostess Theme") is, if anything, even dreamier:
Listen: Singapore Airlines: "SIA Hostess Theme"
This sparser theme was used in the earliest television commercials, such as this one:
And with that, the ingredients of the campaign were set for the next 40 years. The Singapore Girl wanders around the world, smiling demurely, touching up her makeup, and performing random acts of kindness. In fairness, by the standards of the early 1970s, this is fairly tame. At the time, Southwest Airlines was making its stewardesses stand on active runways in hotpants and National's stewardesses were encouraging travellers to "fly me."
The difference is that Singapore Air's advertising has hardly changed.2 Here's a spot from 2011, produced by TBWA after Batey finally lost the account in 2007:
Well, the production values have improved: the new spot is absolutely gorgeous. But the music is related to the original spot, and the melody of the tagline is identical. And the Singapore Girl is still wandering around the world, smiling demurely and performing random acts of kindness.
In one sense, Singapore Girl hasn't aged a day; in another, she seems terribly dated. And yet she is now so intrinsic to the brand that Singapore Air is almost unthinkable without her. No matter the arguably sexist, orientalist symbolism; the fact is Singapore Girl is still flying because she still holds power. In a commodity marketplace, Singapore Air found an honest-to-goodness point of difference. And they're going to stick with what works.
Airline: Singapore Airlines
Title: "Singapore Girl Theme"
Agency: Batey Ads, Singapore
Written and performed by: Patrick Aulton
Year: 1973
Lyrics:
Singapore girl,
you look so good I want to
stay up here with you forever.
You're a great way to fly.
You look so good I want to
stay up here with you forever.
You're a great way to fly.
Eva Mariani, "It's not easy to be an SIA Singapore Girl," The Jakarta Times, Mar. 4, 2005: 19. [↩]
Singapore has posted a playlist on YouTube with a selection of Singapore Girl commercials through the years. If only more airlines would do this! [↩]