Flyby Wire: May 19th, 2013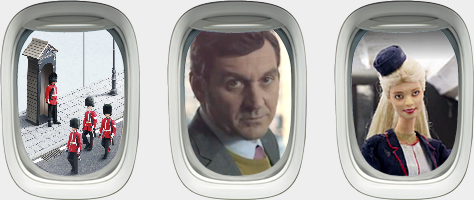 Welcome to the first issue of The Work This Week, a weekly roundup of new advertising, identity, and brand experience work from around the airline industry. On TWTW's maiden flight, we dissect what it means to be British with British Airways, burn calories for air miles with airBaltic, and rediscover the joy of reading with Qantas.

Advertising
British Airways encourages travellers in Asia to "Experience Britain" by cramming the best of Britain into a single 747. Agency: BBH Singapore. Source: The Inspiration Room.

A French business traveller initially finds German punctuality and attention to detail exhausting in this new spot from Lufthansa — though of course he comes around in the end. Agency: Kolle Rebbe, Hamburg.

Digital/Mobile
Inflight
Experiential
To promote its expansion of Terminal 4 at JFK, Delta has created a pop-up store in SoHo that showcases the features of the new terminal. The space is designed to resemble the new Sky Deck lounge at T4. You can also buy chef-inspired sandwich boxes for $4. The space is open until May 22. Source: Airchive.
Accounts
El Al has named Soubriet Byrne & Associates as its lead advertising agency in the U.S. Source: Adweek.
Awards
It's awards season in the advertising industry and a handful of air travel campaigns have made the cut so far. The One Show and the CLIO Awards took place in the last two weeks; Cannes is coming up next month. Here are the winners so far:
Tips?
If you have any tips, e-mail me or tweet them at @brandedskies. See you next week!
Updated 23 May 2013: Added bronze CLIO for American Airlines.