Nonstop hoo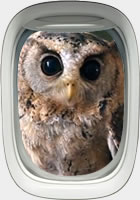 There's a major shift going on at Germany's largest airline, and it goes far beyond a new advertising agency.
This month, Lufthansa launched a new advertising campaign with the tagline "Nonstop you." It's the first new campaign from Kolle Rebbe, Hamburg, which won the business from McCann Berlin last year. And it seems to signal a very different Lufthansa.
The first television commercial, starring three adorable owls, is after the jump.
Here's my best effort at a translation, with the help of Google Translate: Bird with cute little feathers. Bird with cute little eyes. Bird with a cute little beak. Bird with a cute little price. Over 100 destinations in Europe, round trip from €99.
I'm not really sure what "nonstop you" is supposed to mean; it's the sort of fuzzy, feel-good tagline that doesn't resonate with anyone but doesn't really offend them either.
What is clear, though, is that Lufthansa is shifting some of its focus away from business travelers to the leisure market. For one thing, although I'm sure HON Circle fliers like cute little owls as much as the next guy, owls don't seem like the best way to appeal to them. For another, they're not that price-sensitive — and yet every execution I've seen of the new campaign includes a big yellow violator with "99€" in big white text.
This isn't just a case of a new approach from a different agency. Lufthansa has apparently been fundamentally rethinking its brand. Take a look at this recent brand film — and feel free to fast-forward to the end. We don't have all day to watch brand films.
"Our brand stands for Value for Money." Value for money?
I've recently been reading a book by Jens Müller and Karen Weiland entitled Lufthansa + Graphic Design. It's a fascinating book on the history of Lufthansa's design. I hope to post more about it soon. The book includes excerpts from different Lufthansa corporate identity manuals over the years, including adjectives associated with the Lufthansa brand: Secure. Precise. Systematic. Reliable. Punctual. Lufthansa has always been the BMW of airlines.
"Value for money" is very different. "Value for money" suggests that Lufthansa has fundamentally changed how it sees itself. It is now not only a competitor to global carriers like British Airways or Emirates — it's also going up against Germanwings, easyJet, Ryanair. Lufthansa seems to be awkwardly positioning itself somewhere in the middle.
It seems like an odd change in direction. But with a tagline as amorphous as "nonstop you," who knows where the campaign will go from here.