Jingle: Western "Western Pays a Buck a Flub" (1966)
Listen: Western Airlines: "Western Pays a Buck a Flub — Rude"
Gawrsh, running an airline sure hurts your noggin. So many things to remember. Smile at the passengers, clean the lavatory, put down the landing gear… who could blame ya for goofin' up sometimes? Aw-hyuck!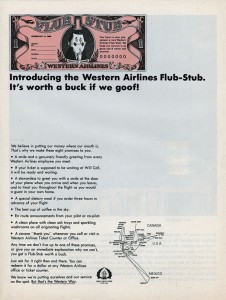 From May 9, 1966 until October 1968, Western Airlines offered its passengers a dollar for little service goofs. Nothing serious—you'd get a buck if a stewardess forgot to smile, if the coffee didn't taste good, or if the reservations agent forgot to say thank you.
Western's "flub stubs" were part of a late-60s trend of airline promotions featuring incentives for good service. TWA offered its employees a million-dollar bonus. Braniff did Western one better, offering a dollar to every passenger who was delayed more than 15 minutes (on hearing of this, a Western executive reportedly said: "Wow! Good luck to them.")
Over the course of the program, Western said it redeemed 60,000 flub-stubs (no word on how many were given out) from 10.5 million passengers—1 flub stub for every 175 fliers.
The jingle here is from a radio campaign introducing the program. I suppose "jingle" is being a bit generous; it's actually just the words "Western pays a buck a flub" set to Liszt's Hungarian Rhapsody #2. The script feels like a skit from a Rotary Club talent show. It's pretty cheesy.
The overall effect is unfortunate. It makes Western sound like a bunch of amateurs when really, if you're going to strap yourself into a metal tube and launch yourself into the sky, you want professionals in control. The fact that this program lasted for two years means it must not have been a complete failure.
But it still feels like a bit of a flub.
Airline: Western Airlines
Title: "Western Pays a Buck a Flub"
Agency: BBDO, Los Angeles
Written By: Franz Liszt (music — Hungarian Rhapsody No. 2)
Year: 1966
Lyrics
Western pays a buck a flub.
Western pays a buck a flub.
Western pays a buck a flub.
Western pays a buck a flub.