Jingle: "Mohawk's Going Your Way" (1968)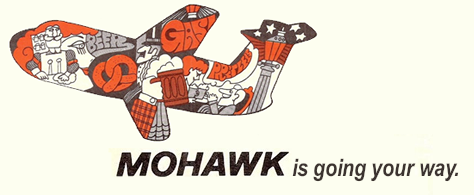 Listen: Mohawk Airlines: "Mohawk's Going Your Way"
This one's a bit of a puzzle.
Mohawk Airlines was a regional airline based in upstate New York. It grew quickly in the late 1960s and early 1970s, then was absorbed into Allegheny in 1972. So its advertising hasn't left the paper trail of national airlines like United or TWA. But here's what I can deduce.
This recording comes from a 45 entitled "The Swinging Sound of Mohawk Airlines." If it ever had a cover, I don't have it now. There is, however, a drawing of a BAC One-Eleven on the label. The label also identifies the composer, Gordon M. Day, who describes himself in a 1957 issue of Billboard as "a professional practitioner of the gentle art of jingle-making," having written jingles for Alcoa, American Tobacco, and… well, several other brands that don't exist anymore.
The matrix number on the record, "W4KM-1519," suggests the record was pressed in 1968, and based on the drawing of the BAC One-Eleven and the typeface of the logotype on the label, that sounds about right. At the time, Mohawk was trying to be a bit more groovy. For example, their stewardesses were outfitted with new uniforms from Saks. As another example of its modernness, Mohawk was the first regional airline to offer jet service.
In 1968, Mohawk's advertising agency was Anderson, Davis & Seeds in Utica, New York. Here's a story about them from the Boonville Herald.
I'm not entirely sure what this jingle was used for. Was it part of a broadcast campaign? The length, just about exactly 60 seconds, suggests that it was used for television or on the radio. But the song's intro seems very long for a jingle that would be used in a commercial, and the loud brass section in the instrumental portions would compete with a voiceover. On the whole, my guess is it was used in a commercial but I haven't been able to find any evidence of "Mohawk's going your way" being used as a tagline in any other Mohawk advertising.
You gotta love the exuberance of this jingle. To me it sounds pretty rough, like it's trying too hard to be cool. But it's still a lot of fun. At the time, Mohawk flew to fairly obscure places like Schenectady, Plattsburgh, and Poughkeepsie and connected them to New York, Pittsburgh, and Boston. As a local service airline, it didn't go far and flights often made many stops along the way. So if you wanted to go anywhere outside a fairly limited part of the northeast, you would fly Mohawk to a larger city and some other airline to wherever you were going.
So the lyrics are not only simple, they're actually very literal. Wherever you're going, Mohawk's probably not going. But at least it's headed in the right direction.
Airline: Mohawk Airlines
Title: "Mohawk's Going Your Way"
Agency: Anderson, Davis & Seeds, Utica, N.Y.
Written By: Gordon M. Day
Year: 1968
Lyrics
Wherever you're going,
Start off with Mohawk.
Wherever you're going,
Mohawk is going your way.
Wherever you're going,
Start off with Mohawk.
Wherever you're going,
Mohawk is going your way.
Mohawk! Airlines!
Mohawk! Airlines!
Mohawk! Airlines!
Mohawk! Airlines!
Mohawk! Airlines!
Image credit: timetablesonline.com