Requiem: Air Canada Jazz (2001–2011)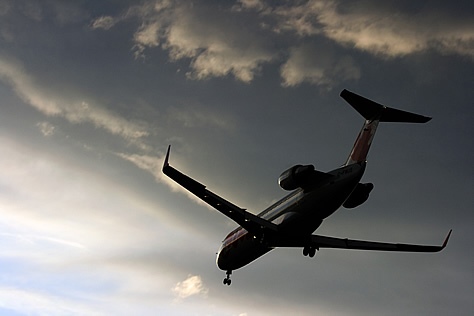 Jazz, the brand formed by Air Canada in 2001 to consolidate its regional carriers, has flown its last flight. It was 10 years old.
Starting today, Jazz flights will be flown under the name Air Canada Express. The Air Canada Express name is already being used for flights to Montreal from Toronto City Airport, which are operated by a different company.
If the new brand sounds an awful lot like the name of a U.S. regional carrier, that's not an accident. Air Canada's strategy for its feeders is coming to resemble the American model of regional services like U.S. Airways Express, Continental Express, and United Express (see the connection?) The Air Canada Express brand will in fact cover flights operated by five different companies, none of them owned by Air Canada.
Not so long ago, Air Canada's regional carriers were mostly owned by Air Canada. Jazz was until it was spun off in 2006. The predecessors to Jazz — among them Air Nova, Air Ontario, Air BC, and Canadian Regional — were also wholly owned subsidiaries. This was increasingly an anomaly in North America, where only American Eagle is still owned by the same company as its mainline partner.
Operationally, this strategy may make sense. But from a branding perspective, it's unfortunate.
Canadians are generally very familiar with regional carriers in the United States and know what to expect from them: not very much. The new name conjures images of cramped regional jets and turboprops, inconvenient hub-and-spoke networks, and dubious safety records.
I've always thought Jazz was a bizarre name for a Canadian airline. It was introduced around the same time as Tango and Zip, Air Canada's two failed oddly named low-cost airlines-within-an-airline. But while the name Jazz had little connection to Canada, or flying, or the product, or… well, anything, it was distinctive. "Air Canada Express" is quite the opposite.
It doesn't matter that the airline formerly known as Jazz has personal seatback AVOD on many flights, or that flights between Toronto City Airport and Montreal offer food and drink to compete with Porter Airlines. The new name associates Air Canada's regional product with American feeders, and that's not a happy connection.
The Jazz brand was not without its baggage. The airline is perhaps most famous in Canada for removing all the life jackets from its planes. Sadly, the new name is worse. It isn't a signal to consumers to expect a better airline; it's a tacit signal for them to lower their expectations.
Photo credit: Jazz #6192 by Craignos, licensed under Creative Commons