Flyby Wire: August 4th, 2013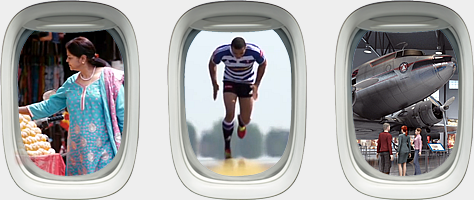 Editor's Note: The Work This Week will go on a brief hiatus as I travel for work. It will return on Sunday, August 25th.
Welcome to the twelfth issue of The Work This Week, a weekly roundup of new advertising, identity, and brand experience work from around the airline industry. This week, Jat Airways flies into the history books, Virgin Australia knocks over the Eiffel Tower, and a son visits his mum in Mumbai.

Advertising
LAN Airlines wants Peruvians to buy their plane tickets early. Agency: Y&R Peru. Source: Ads of the World.

Digital
In a campaign aimed at Indian expats, British Airways produced a touching video about a mother in Mumbai and her son living in New York. Agency: Ogilvy & Mather, New York. Source: Creativity.

Meanwhile, to promote service to Johannesburg on its brand-new A380, British Airways staged a not-entirely-convincing race between the superjumbo and South African rugby player Bryan Habana. The video leaves the outcome of this race rather ambiguous.

Identity
Passenger experience
Lufthansa opened new, family-friendly check-in counters with steps so children can watch the check-in process and special boarding passes for stuffed animals. They've also updated their meals for children and the kits they give to younger flyers. But what Branded Skies really wants to know is, will they bring back junior wings? Source: airlinetrends.com
Experiential
Delta's Air Transport Heritage Museum in Atlanta will be renovated and reopen next summer as the Delta Flight Museum.
To promote Virgin Australia's Velocity frequent flyer program, a world-record-holding cardstacker built the Eiffel Tower out of Velocity cards, then knocked it over with the world's most useless leaf blower.

Tips?
If you have any tips, e-mail me or tweet them at @brandedskies. See you next week!
Image credits: British Airways, Delta Air Lines