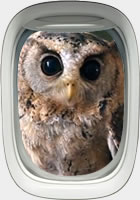 There's a major shift going on at Germany's largest airline, and it goes far beyond a new advertising agency.
This month, Lufthansa launched a new advertising campaign with the tagline "Nonstop you." It's the first new campaign from Kolle Rebbe, Hamburg, which won the business from McCann Berlin last year. And it seems to signal a very different Lufthansa.
The first television commercial, starring three adorable owls, is after the jump.