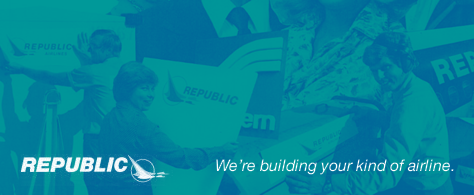 Listen: Republic Airlines: "Gotten Together"
Airline mergers are ugly. With a capital Ugh. Seniority lists need to be mashed together. Incompatible fleets need to be made compatible. Executive vice presidencies need to be redistributed. The fears of frequent fliers need to be assuaged.
And through it all, the advertising needs to stay bright and cheerful. Nothing to see here, folks. Look at how super happy all those employees are to be working together!
No, you can't blame advertising for putting a happy face on an ugly merger. But this is just painful.